Houston Truck Accident Attorneys
18-Wheeler Truck Accident Attorney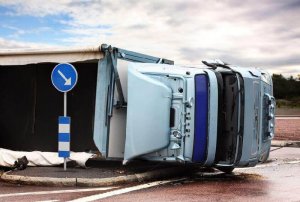 Car accidents and trucking accidents are defined separately for specific reasons. If you've thought that a car accident and trucking accident are the same, there are varying differences that define specific degrees of severity. Since 2004, Hilda Sibrian has been a Houston truck accident lawyer, delving deep into claims with aggressive counsel to get you the compensation you deserve.
Houston's population continues to soar every single year. With that, our city become more congested, and auto accidents rise. Trucking accidents contain more severe damages to persons and property due to the increased weight of rigs, as well as the nature of said accidents, including, but not limited to:
Driver-Related Behavior: One trait synonymous with trucking, is the necessity to rely on caffeine and sugar to stay awake at the wheel. Unsafe practices involving truckers and extended hours on the road are never okay, and often times, we find drivers pushed over their limit when accidents occur. The Federal Motor Carrier Safety Administration (FMCSA), declares that a trucker may only drive for up to eleven consecutive hours, only after a mandatory ten-hour break. When these practices aren't followed properly, people get hurt due to negligence.
Company-Specific Negligence: It isn't always the trucker in question that pushes themselves past their limit to reach a deadline or keep their job. Companies have been known to be at-fault for negligent acts, including improper screening of candidates and eventual employees for medical reasons, failure to verify CDL certification, pre-trip inspections, and more.
Maintenance Failure: When companies get lazy and don't inspect their vehicles on a recurring basis, systems fall into disrepair. It is the responsibility of the company that owns the truck to repair the trucks. Trucking companies are required to perform regular inspections and maintenance on their rigs to avoid accidents. Your trucking accident lawyer Houston office will know to check for all of these factors, and more.
Overloaded Rigs: When companies face unforeseen circumstances and overload their rigs to save time or client relations, it's people like you who pay the price. If you are hurt due to the company's negligence, then they should be held accountable for their actions.
Your Truck Accident Lawyer Houston Office Fights the Insurance Company For You
When you're dealing with commercial insurance as opposed to personal insurance, there is a laundry list of protocol and procedures that they use against you. We've been in these situations before, and possess the knowledge and strategies to get through to the source, without dealing with all of the fluff.
Insurance companies will do everything they can to substantially underpay you for your injuries that may last a lifetime and result in overwhelming out-of-pocket medical expenses. Hiring tactful counsel to represent you can increase your chance for just compensation for your injuries.
What Steps Should I Take Following an Accident?
The first step is to always seek medical attention. In a perfect world, it's best to immediately contact our office for legal aid, so we can walk you through everything you'll need to do. However, that's rarely the case, and we value your health over expediting a claim. The first thing you should do is seek medical attention.
If you're waiting for emergency services to arrive and find yourself capable to perform basic functions, you are still the victim of an auto injury and are still entitled to compensation. In this state, if possible, it's always best to take these approaches:
Take Photographs: Any photos you take may be of use should your claim reach a courtroom. In situations on a larger scale, such as a trucking accident, it's easier for small details to get lost, even in police reports. Having your own evidence is crucial.
Witness Testimonies and Information: Houston is a big city with a bustling population in the millions. It's not unlikely to have a witness nearby. If you're able, take down statements and information to follow-up with these witnesses at a later date. The more information supporting your claim, the better.
Your number one priority should be healing and taking care of your family. Your quality and way of life have been disrupted due to no fault of your own. Let us handle it from here, and ensure you get the compensation you deserve.
Contact Our Houston Truck Accident Lawyers
At our Houston office, there is always someone ready to take your call or answer your questions. We understand that accidents are inconvenient to say the least, which is why we're reachable at all hours of the night and day, to give you immediate relief regarding your legal decisions. If you've recently been injured in a trucking accident, you've already undergone enough stress and trauma – talk with us today, and put that weight from your shoulders into our hands.
Choosing a Truck Accident Attorney You Can Trust
For nearly fifteen years, the law offices of Hilda Sibrian have been helping injured victims of trucking accidents, as well as the families of loved ones who have been victims of a wrongful death due to a trucking incident. In our office, you're not just another claim – from the moment you walk in the door, you are part of the family.
Allow us to help you like we've been helping the rest of Houston since 2004. You've been injured due to no fault of your own, and you are entitled to compensation. Contact us, your truck accident attorney Houston firm, and find out what we can do for you. Call us and schedule a no-risk consultation, or use the chat system at the bottom of this page. We're standing by 24/7 to help you through this transition – you don't have to handle this alone.