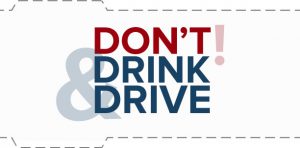 Fewer motorists are driving drunk than ever before, thanks to a combination of greater public awareness and tough action from law enforcement agencies in all 50 states. Yet, until we find a cure for alcoholism, drug abuse, and bad decision making, drunk drivers will continue to ruin lives—both their own and others.
First, let's take a look at the numbers:a car crash, read our previous guide
While some drivers simply make a one-time mistake, many more DUI offenders are chronic drunk drivers. Before ignition interlock devices became a standard punishment in every state, 50 – 70% of drunk drivers would continue to drive on a suspended license (Mothers Against Drunk Driving).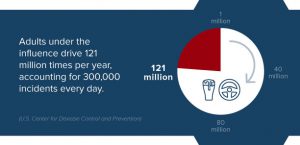 Today, the U.S. Centers for Disease Control and Prevention reports that adults under the influence drive 121 million times per year; that's 300,000 drunk driving incidents every day.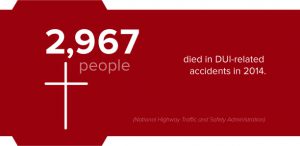 According to the National Highway Traffic Safety Administration, 2,967 people died in DUI-related crashes in 2014 (the most recent year public data was available), while at least 290,000 people were injured.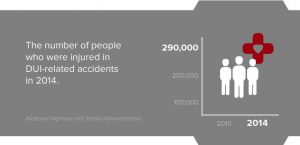 Sadly, these are just three of many grim statistics. While the numbers paint a gruesome picture, this isn't an abstract issue involving only numbers and data. Drunk driving is a deeply human tragedy that affects families and individuals in very painful ways.
Previously, we have written about the top three causes of car accidents in Houston: distracted driving, speeding, and driving under the influence of drugs and/or alcohol. But while DUIs are just one of the top three causes of car crashes, a DUI car accident is far more likely to result in a fatal injury.
In March 2012, nine out of 15 fatal crashes in Houston were caused by alcohol, and the Houston Police Department reported that they arrested 635 intoxicated drivers that month alone.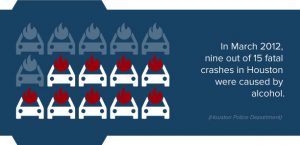 More recently, in March 2016, the Houston Chronicle reported that police made 40 felony DUI arrests, including three people arrested on intoxication manslaughter charges, 12 drivers charged with DWI with a child in the vehicle, and 28 who were charged for their third or higher drunk driving offense.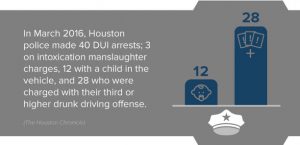 What Do I Do If I Am Hit by A Drunk Driver?
Human beings like to fantasize about what we would do in extreme situations, like the way we would react after a drunk driver crashes into us. We imagine ourselves chasing them down, or instantly memorizing their license plate number as they speed off into the night. Yet in reality, these incidents happen in the blink of an eye, and the stress and shock can keep us from making wise decisions.
For detailed information on the steps to take after a car crash, read our previous guide, "What Should I Do after a Car Crash in Houston?"
But what should you do after a car accident with a drunk driver?
Get to safety right away! It is absolutely crucial that before you do anything else, including calling 911, you get out of immediate danger. If possible, move your car to the shoulder so you can stay clear of oncoming traffic. Likewise, attend to any injuries or wounds.
If the driver stops, collect their insurance, license plate number, and personal information ASAP. If you smell alcohol on their breath, notice any other signs of drug or alcohol use, or if the driver leaves the scene of the crime, then see the next step. If anyone witnessed the car accident, ask for their contact information as well.
If you believe you were injured or that the other driver is intoxicated, call the police right away.
Gather evidence. Before smartphones, many people kept disposable cameras in their glove compartment for this exact reason. If possible, take photos of your injuries and any damage to all cars involved in the accident.
Finally, when you're ready, contact a Houston car accident attorney like Hilda L. Sibrian.
The Law Offices of Hilda Sibrian™, is a bilingual personal injury law firm, with many years of experience representing the victims of DUI car accidents. If you have any reason to suspect the other driver was drunk, you could have a very strong personal injury claim. With the help of a team of car accident lawyers in Houston, personal injury lawsuits can help you recover money for medical bills, burial costs, pain and suffering, property damage, mental anguish, lost wages, reduced earning potential, and even more.
Remember: don't worry if you think you can't afford car accident lawyers after being hit by a drunk driver. The Law Offices of Hilda Sibrian™ doesn't accept payment until your case has been settled or decided in your favor.
Question: Have ridesharing apps like Uber and Lyft helped reduce drunk driving rates in Harris County?
Since this is Texas, where many people look to the free market for solutions, many people have hoped that new car services like Uber and Lyft would help stop drunk driving before it happens. And they have! Or, at least, ride-sharing has had a positive impact on Houston drunk driving statistics so far.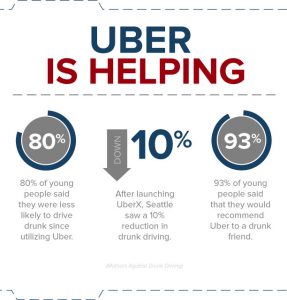 Uber and MADD teamed up to research the effects of Uber on drunk driving rates around the country. After launching the more affordable UberX in 2012, Seattle saw a 10% reduction in drunk driving. That might seem like a drop in the bucket, but the effect is more widespread than it first appeared.
For instance, demand for services like Uber peak during the same hours that alcohol-related crashes most often occur. Not only that, but no matter where Uber is operating, drunk driving rates have started to decline. In California, DUI-related crashes dropped by 60 per month among young drivers. In a survey, 80% of young people said they were less likely to drive drunk, while 93% said they would recommend Uber to a drunk friend.
What Can You Do to Stop Drunk Driving in Houston?
After being injured by a drunk driver, or after losing a loved one in a DUI accident, many people decide to get involved and give back their time to fighting drunk driving. So what resources can you take advantage of in Houston to prevent drunk driving? First, check out our Houston Car Accident Page for an in-depth look at car crashes in the city.
If You See Something, Say Something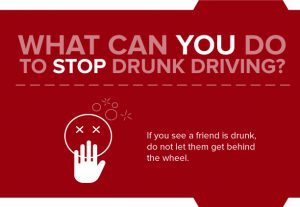 How many drunk driving accidents could have been prevented if a friend, party host, bartender, or a Good Samaritan simply said, "You're drunk. Give me your keys. I can either call you a cab, or call the police." Nine times out of 10, that person will thank you in the morning. It's not someone else's responsibility to say something—it is everyone's job. If you're at the bar, a party, or even in a parking lot and see someone getting ready to drive drunk, say something. In extreme cases, it may even be necessary to call the police. That might seem harsh, but someone is killed by a drunk driver in this country every 53 minutes.
Phone a Friend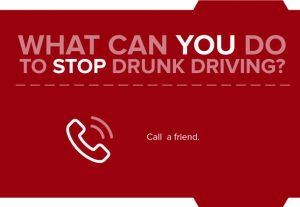 What if you're the one who's had too much to drink, but you don't have money for a cab? Don't be embarrassed, simply pick up your phone and start dialing until you find a ride. There's no better time to cash in an I-Owe-You than when you need a lift home after having one too many. It happens to everyone at some point.
Ridesharing Apps Like Uber and Lyft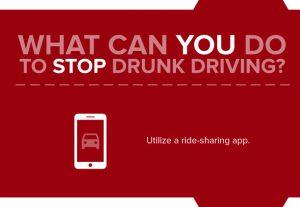 Don't be afraid to call a cab. No matter what transportation service you prefer, a major city like Houston has tons of ride sharing apps and taxi services available 24/7/365. Take it from a professional car accident attorney, the $20 you spend getting home is far, far less than the cost of a DUI arrest, legal fees, and fines.
Alcohol and Drug Abuse Treatment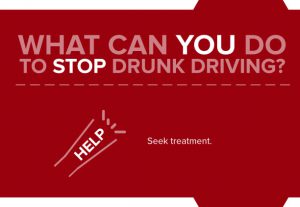 While it can be painful to admit that you have a drug or alcohol problem, you're in good company. Millions of Americans struggle with substance abuse, and there are many helpful resources available in the Houston region. Click here to find a list of rehab centers in the Houston region, or attend one of the thousands of self-help meetings, peer support groups, and Alcoholics Anonymous meetings held every day all over the city. You can find a list of meetings here, or call the 24/7 hotline (713) 686-6300 to speak with a recovering alcoholic right now.
Remember: if you or a loved one has already been injured or hit by a drunk driver in the Houston area, never hesitate to contact our 100% bilingual car accident law firm. The Law Offices of Hilda Sibrian™ is always here to help. If we decide you have a valid case after a free initial consultation, we will fight for you to get the justice you deserve.