Pedestrian Accidents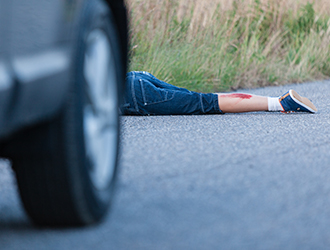 According to Transportation for America, a non-profit group that measures street safety in the U.S., Houston is the 9th most dangerous city for walking in the country. This is largely due to the flaws with the city's urban design and the need for more sidewalks and crosswalks. Regardless of the reason, pedestrians in Houston are at an extremely high risk of being in an accident involving a car, truck or commercial vehicle. When this happens, serious or fatal injuries could result.
Pedestrians are hurt in collisions with motor vehicles at a frightening rate. According to a report from the Governors Highway Safety Association (GHSA), total traffic deaths increased only 6 percent from 2010 to 2015, but pedestrian fatalities rose 25 percent during this same period and accounted for the most significant proportion of traffic fatalities in the past 25 years.
Did you suffer serious injuries, or was your loved one killed in a pedestrian accident in the Houston area? Do not speak to anybody about your accident until you have legal representation. Contact The Law Offices of Hilda Sibrian today. We will fight for the compensation that you deserve. Our attorneys can review your case today in a free consultation.
What To Do After Being Hit by a Car While Walking in Houston
The first thing that you should do when you are involved in a pedestrian accident in Houston is to make sure that you receive medical care. You should do this even if you do not think that you were hurt as some injuries can involve delayed symptoms. Insurance companies are notoriously skeptical of injury claims if there has been any delay in treatment.
You should also immediately contact the local law enforcement agency in the location that your accident occurred in. File a police report, which could prove helpful to your injury claim later on.
You also want to try to collect whatever evidence you can from your crash scene. If you cannot do this because of your need for medical attention, try to have a friend, family member or neighbor do this for you.
For instance, you can use the camera on your cell phone to take pictures of everything involved in your crash from various angles and distances. If any people happened to see your accident, you should get the names and contact information for those witnesses.
The insurance company for the driver involved in your crash will probably attempt to contact you after your accident. While the representatives for these insurers may express a willingness to make sure you are taken care of, you should be extremely skeptical of their motives and refuse to provide any recorded statements. This is because any statement you make could have a damaging effect on your injury claim. Additionally, you should not accept an insurer's settlement offer until you review it with a lawyer first.
The Law Offices of Hilda Sibrian can deal with the insurance company on your behalf. Our firm can immediately step in and pursue a pedestrian accident settlement that covers all of your past, present and future expenses and other damages.