Head-On Collision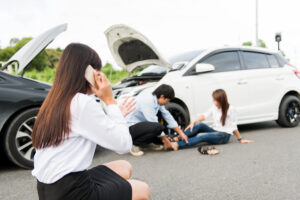 Head-on collisions may occur less frequently than other types of car accidents, but, unfortunately, they tend to cause more severe and fatal injuries than other types of accidents. The National Safety Council reports that, in one recent year, there were approximately 5,000 deaths among 360,000 head-on collisions across the United States, compared with about 2,900 deaths among 4.4 million rear-end collisions.
Because head-on crashes often involve vehicles hitting each other at high speeds, the injuries from these crashes can be catastrophic, leaving accident victims in severe pain and facing the prospect of expensive medical treatment for years to come.
The Houston car accident lawyers at The Law Offices of Hilda Sibrian™ can help if you've been injured in a head-on accident. We've been helping victims of head-on collisions recover fair compensation for their injuries for more than 15 years. If you want to know more about how we can help you, contact our office for a free initial consultation. 
Common Causes of Head-On Collisions
Everything from driving while distracted to speeding around a curve could lead to a head-on collision, but some of the more common causes of these accidents include:
Impaired driving

– Drivers who drink or use drugs before getting behind the wheel are at much greater risk of being involved in a head-on collision. Alcohol, narcotics, and some prescription medications can impair drivers' reflexes, affect their perception and judgment, and make them more prone to risky driving behaviors.

Driving while fatigued

– Someone who is driving while suffering from extreme fatigue will experience many of the same effects as if they were impaired, including dulled reflexes and poor judgment. A driver who's severely fatigued could also fall asleep behind the wheel and drift into the path of another vehicle.

Distracted driving

– Even momentary distractions can lead to a head-on accident if the driver unknowingly drifts into oncoming traffic. Talking on a cellphone, texting, eating or drinking, talking to passengers, adjusting the music, using a navigation device, and other distractions can all cause a driver to move out of their lane into the path of other vehicles.

Passing dangerously

– Head-on collisions frequently occur when drivers exercise poor judgment when attempting to pass someone else in their traffic lane. If a driver who's attempting to pass does not give themselves enough time and space to do so safely, they can easily collide with a vehicle coming toward them.

Tire blowouts

– A sudden tire blowout can cause a driver to lose control of their vehicle and cross into the path of another vehicle.

Speeding and other aggressive driving behaviors

– Drivers who speed, make reckless or unsafe turns, change lanes without signaling, and engage in other aggressive driving behaviors can easily lose control of their vehicle or put themselves in a situation where a head-on accident becomes likely.

Bad weather

– Rain, snow, ice, and other bad weather can cause a driver to lose control and move into the path of vehicles traveling in the opposite direction.

Ignoring traffic signs and signals

– Drivers need to be watchful for stop signs, intersections, yield signs, and other traffic control devices when they're on the road. Ignoring these signs can cause a deadly head-on crash.
Proving Fault in a Head-On Crash
Proving that the other driver was at fault for a head-on collision is crucial if you want to recover any compensation for your injuries. You'll need evidence showing the other driver was negligent and caused your injuries. Some of the evidence commonly used to establish fault in head-on collisions includes:
Police accident reports

Pictures and videos from the crash scene

Video footage from traffic light or security cameras

Medical records

Eyewitness testimony

Testimony from expert witnesses

Reports from accident reconstruction teams
What to Do If You Are the Victim of a Houston Head-On Collision
Here are the key steps to take if you're involved in a head-on accident in Texas:
Call 911

to bring police and emergency medical responders to the scene.

Before leaving the scene,

take pictures

of your injuries, the damage to any vehicles involved in the crash, and the accident scene.

If you aren't brought to a hospital,

see a doctor

as soon as possible.

Follow all of your doctor's instructions

carefully and

save all your medical records

.

Don't talk to the at-fault party's insurance company

until you've spoken to a Houston car accident lawyer.

Refrain from posting updates on social media

as information you post could potentially be used against you.

Keep track of your injuries' impact on your life by

recording details

such as your

daily pain levels, emotional wellness, and tasks you're unable to perform

.

Hire a head-on collision lawyer

who can help you pursue fair compensation.
Damages in Head-On Collisions 
Texas law allows the victims of head-on collisions to recover compensation for their losses from the party responsible for the accident. With help from a head-on collision attorney, you could potentially recover compensation for:
Lost wages and reduced future earning potential
Present and future medical bills
Damaged personal property
Pain and suffering from your injuries
Emotional suffering and diminished quality of life
Disability and disfigurement
How a Lawyer Can Help If You Were Hurt in a Head-On Collision
There are several ways that a head-on collision lawyer can help you after an accident. They can: 
Investigate the accident to identify the liable party or parties 
Gather your medical records and other evidence to illustrate all the losses you suffered in the accident
File your claim promptly so you don't miss your chance to recover compensation
Negotiate aggressively with the liable parties and their insurance companies to pursue a fair settlement
Bring your case to trial if a fair settlement can't be reached
Talk To a Head-On Car Accident Lawyer Now
The Houston car accident lawyers at The Law Offices of Hilda Sibrian™ want to protect your rights and help you get the compensation you need after a major accident. Contact our office today for a free initial consultation.