Houston Bicycle Accident Attorneys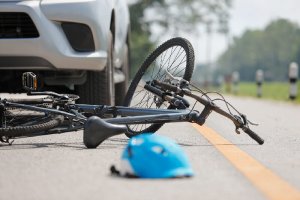 If you or a loved one has been involved in a bicycle accident, you should know your rights. Do not hesitate to contact an experienced personal injury attorney. The Law Offices of Hilda Sibrian is here to help you, following an accident.
Bicycle Accidents in Houston
Houston is home to many people with different preferences for their mode of transportation. While going for a ride on your bicycle may be therapeutic, accidents can and do happen. Unfortunately, we cannot completely avoid the threat of an accident.
If you've been involved in an accident, you should contact an attorney immediately. An experienced personal injury attorney will help you uncover all of the necessary facts and details of the accident and decipher the fault or faults associated with the accident.
What Are the Causes of Bicycle Accidents?
As much as we may try to avoid being in an accident, we cannot control every outside factor that may cause an accident. There are a number of possibilities that can cause bicycle accidents. A common scenario involves a bicyclist and someone driving a vehicle. As bikes are becoming a more popular form of transportation, bike lanes are being created so that bicyclists and drivers can more easily co-exist on the roads.
The following accidents involving bicyclists are common:
Intersection collisions due to miscommunication or failure to follow the rules of the road
Blind spots causing a collision
Construction or other road hazards
Poor weather conditions
What Should You Do After a Bicycle Accident?
Immediately following an accident, you may want to call 911 to file a police report and/or call an ambulance, depending on the injuries sustained in the accident.
Even if you feel physically stable, you may have internal injuries that are not visible to the untrained eye, or they may be masked by the shock and adrenaline running through your system. Also, there should be medical documentation of any injuries sustained in the car accident.
At the scene of the accident, you should obtain pictures of the vehicles and any injuries sustained. You should exchange information with the other party including names, phone numbers, insurance information, and addresses. Then, contact a car accident attorney to begin working with you on your case.
In the event that you have been injured in a bicycle accident, you may be eligible for compensation for your injuries. This compensation will potentially go toward your medical bills, loss of income, and pain, among other damages.
Following medical treatment, you should contact an experienced personal injury attorney as soon as possible. The sooner you seek legal counsel, the better. Once you've contacted an attorney, they will continue to walk you through the legal process and help you decide what your next steps may be.
Tips For Staying Safe While Biking in Houston
There are many steps you can take to help avoid being involved in a bicycle accident.
Before you go on a ride, you should take some time to prepare for your ride. You should invest in a helmet that fits your head properly. You can go to a local bicycle store and have a professional help you choose a helmet that works for you. Also, you should put lights on your bike so you're clearly visible, especially when riding at night or very early in the morning.
You should wear bright clothes while riding your bicycle, which will make you more recognizable to someone inside a car.
As far as the actual ride goes, you should follow the same rules of the road as people who are driving cars. If there is a bike lane on the street, you should remain in that lane at all times. Veering into the street will only increase your chance of being in an accident with another vehicle on the road.
It's important that you are alert and completely aware of your surroundings while riding your bike. You should not listen to music or talk on the phone, as these activities pull your attention and possibly your hands, away from your ride.
You should use hand signals to motion to other vehicles or pedestrians when you are turning or performing other actions on the road.
Contact Our Houston Bicycle Accident Lawyers
Although a bicycle accident may not seem like a big deal to some, you should receive compensation if you were injured due to the negligence of someone else. Contact a bicycle accident lawyer you can trust.
If you have lost a loved one due to a bicycle accident in Houston, contact the experienced wrongful death attorney at our office. Hilda Sibrian will work to help you and your family reach a settlement to cover many costs associated with this situation.
At The Law Offices of Hilda Sibrian, we have experience with bicycle accidents, in addition to many other personal injury situations. Our main goal is to ensure that you receive the compensation you deserve after you've been injured due to the negligence of another individual. You should not have to pay the price, physically or financially, for someone else's wrongdoing. Contact us as soon as possible to begin working together today.
Choose The Law Offices of Hilda Sibrian
We have been practicing law since 2004, and she will work tirelessly to see that you receive the compensation you deserve. In addition to practicing personal injury law for bicycle accidents, we also practice in the following areas of law: car accidents, truck accidents, wrongful death, motorcycle accidents, pedestrian accidents, refinery accidents, slip and fall accidents (premises liability), and dog bites.
If you need legal representation in or around Houston, you should contact The Law Offices of Hilda Sibrian immediately. We are ready to help you. Call our office today.