Burn Injury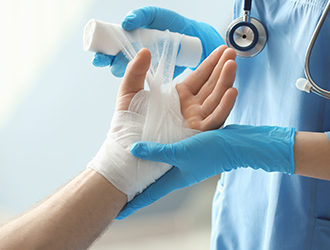 Burn injuries are among the most catastrophic injuries people can suffer. In addition to the initial excruciating pain involved in experiencing a burn injury, many victims continue to deal with pain and suffering as they struggle to recover. Severe burn injuries can lead to lifelong complications. They may require multiple skin grafts, surgeries involving the transplant of tissue, and they may lead to serious infections.
Did you or a loved one suffer serious burn injuries in an accident caused by another party's negligence in the greater Houston area? If so, you should immediately seek qualified legal advice from an experienced Houston burn injury attorney.
The Law Offices of Hilda Sibrian makes pursuing compensation as simple as possible for you. We have a fully bilingual staff willing to visit you in your home or hospital room if you cannot come to our law office. You can set up your own free consultation as soon as you call at (713) 842-9492 or contact us online.
Types and Degrees of Burns
An injury caused by fire, hot liquid, hot objects, or steam is called a thermal burn. According to the Cleveland Clinic, thermal burns are the most common kinds of burns.
Other serious burn injuries include chemical burns, which occur when either strong acids or strong bases come in contact with the skin. Electrical burns stem from contact with electricity.
Burn injuries are divided by degrees, with the three most common being:
First-Degree Burns — A burn of only the epidermis, the outer layer of the skin, that causes mild pain. Sunburn is the most common example of a first-degree burn, which usually heals in days.
Second-Degree Burns — Damage to both the epidermis and the dermis, the layer of skin below the epidermis, often caused by contact with hot liquids. Second-degree burns can cause blisters with possible scarring, and skin grafting may be required in some cases. Recovery usually takes several weeks.
Third-Degree Burns — Damage extending into the sweat glands and underlying tissues, causing the skin to take a dry and leathery appearance. Skin grafting is always required for third-degree burns, and some injuries can also involve surgery.
There are three other degrees of burn injuries, but they are far less common. Burn injuries are usually fatal if they are fourth-degree burns that extend into the fat, fifth-degree burns that extend into the muscle, or sixth-degree burns that extend into the bone.