Slip and Fall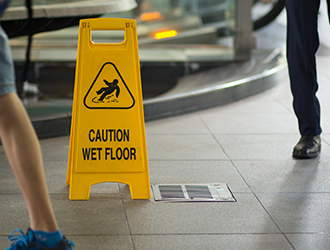 Slip and falls are not minor accidents. They often cause serious and permanent injuries. This is especially true when the victim is a child or an elderly individual. If a slip and fall occur because a property owner fails to uphold his or her duty to visitors, the property owner may be held liable for damages under the theory of premises liability.
The Law Offices of Hilda Sibrian provides diligent, accessible representation to slip and fall injury victims in Houston and communities throughout Texas. We know how these accidents can happen at inopportune times, which is why we offer 24/7 legal assistance. We also have a bilingual, Spanish-speaking team of attorneys and staff members who can work with you. Contact us today for a free consultation and learn more about how we can serve you.
Where Do Slip and Fall Accidents Happen?
Slip and falls can occur anywhere. The common factor in most of these accidents is the negligence of a property owner or a party who is otherwise in control of the property. Common locations for slip and fall accidents in Houston occur in stores and restaurants, parking lots and garages, homes and public areas:
Stores and restaurants – Falls often occur in grocery stores or in large retail stores like Wal-Mart. They also frequently happen in dimly lit places such as restaurants and bars. In these cases, it is important to determine who owns the property and who may have a lease for the property. One or even both of those parties could be held accountable for the fall-related injuries.
Parking lots and garages – These areas pose many unique dangers, including poor lighting, ice during extreme winter weather and cracked or uneven pavement. Again, liability in these instances depends on who owns the property, whether it is rented to another entity, and who was responsible for maintaining the lot or garage under an agreement between the two parties.
Homes – Many slip and fall accidents occur at private residences. The victim often knows the property owner on a personal level. The owner may be a friend, neighbor or family member. It is important to know that a premises liability lawsuit typically seeks compensation from the property owner's insurance coverage and not from the owner's personal assets.
Public areas – It is not uncommon for slip and fall accidents to occur in public areas such as swimming pools, restrooms, parks, public sidewalks or government buildings. When a slip and fall accident occurs on public property, a government agency may be held responsible. However, suing the government is much more difficult than suing a private business or individual. If you do plan to file a claim against a government agency, it is important to get help from an experienced Houston slip and fall lawyer as soon as possible.