Motorcycle Accidents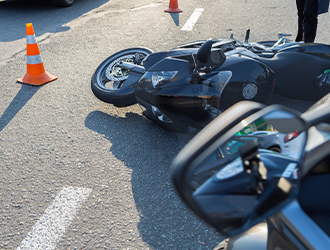 The experienced Houston motorcycle accident attorney of The Law Offices of Hilda Sibrian represent victims of motorcycle accidents and their families in Houston and across Texas. We know that victims of these types of accidents often suffer more than just minor injuries. So, we work hard to pursue the compensation they need to pay for quality medical care and to have financial support as they move forward.
Motorcycle riders are aware of how a crash – even at a low speed – can cause severe injuries, but drivers of other vehicles are not always quite as concerned. As a result, countless motorcycle crashes are caused by the careless or reckless actions of other motorists, and the motorcycle rider and/or passenger is usually the one who has to pay the highest price.
Did you suffer serious injuries, or was your loved one killed in a motorcycle accident in the Houston area? We are ready to help you seek the compensation that you are owed. Contact the Houston motorcycle accident lawyers at The Law Offices of Hilda Sibrian for a free consultation. We have a fully bilingual, Spanish-speaking staff that is ready to go to work for you today. If you cannot come to our Houston office, we will come to you. We provide hospital and home visits, and we are available 24/7 to answer your questions.
Important Steps to Take After a Motorcycle Accident in Houston
If you have been involved in a motorcycle crash, your first step should always be to seek medical attention. This is true even if you don't think that you were hurt, or if you don't think your injuries are very serious. Some injuries involve delayed symptoms. If you wait until symptoms appear days or possibly even weeks later to go to a hospital, an insurance company may use your delay in treatment to argue that your injuries were not as severe as you claim.
Another valuable thing that motorcycle accident victims can do after accidents is to take pictures of the crash scene. You will want to get multiple photographs from several different angles and distances. You should also try to include photos of any contributing factors. You will never be told that you took too many pictures of the accident scene.
Also, take pictures of any injuries before they have time to heal. If anybody saw your accident, get their names and phone numbers. These people could end up becoming essential witnesses if there is a dispute about how a crash occurred.
Lastly, make sure that you do not speak to any insurance company for another motorist that attempts to contact you. You should instead contact a personal injury lawyer who can handle these phone conversations on your behalf and ensure that you do not accidentally say anything that will minimize or jeopardize your legal claim.