Houston Motorcycle Accident Attorneys
We Are Your Houston Motorcycle Accident Lawyers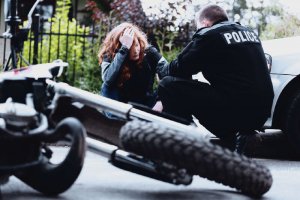 Motorcycle accidents require specific attention to detail and aggressive legal maneuvers by a dedicated, compassionate team of qualified legal representatives. Statistics show that you are more likely to be involved in an accident on a motorcycle and that 10% of all highway-related accidents involve motorcycle operators.
Statistics often make one party feel inadequate, or that their claim is invalid – just because you're choosing to ride an alternate form of transportation doesn't mean that you're not entitled to the same compensation or level of care that a car accident victim is. If you've been injured in a motorcycle accident, you should seek the best legal representation possible that is compassionate to your situation and injuries. The Law Offices of Hilda Sibrian is available 24/7 to help with your case.
How do Motorcycle Accidents Occur?
As with other types of auto accidents, there are numerous types of ways that motorcycle accidents occur, often due to circumstances outside of the motorcycle operator's control. These include:
Distracted Driving: One of the leading causes of accidents in the United States is distracted driving. According to the Center for Disease Control (CDC), "Each day in the United States, approximately 9 people are killed and more than 1,000 injured in crashes that are reported to involve a distracted driver." With those numbers appearing to grow after every report, distracted driving continues to be one of the most detrimental issues we see as Houston injury lawyers.
Drunk Driving: In their most recent report (2015), the CDC reported a staggering 1.1 million cases of drunk driving. That's over 3,000 cases every single day. Drunk drivers have been the culprits of numerous incidents involving motorcycle operators, most notably in suburban areas and city streets.
Aggressive Driving or "Road Rage": If you've ever been behind the wheel of a car, you've likely experienced "road rage" at least once in your life. It's not an excuse for incomprehensible behavior, though it is often used as an excuse. Aggressive drivers may take out their frustrations on motorcycle operators, as we've seen in very recent stories.
Traffic Violations: Drivers run red lights – it's illegal, it's dangerous, yet they still do it. When you're simply getting from point A to point B, the last thing on your mind is the thought of another driver on the road completely disregarding safety protocol simply to shave a few minutes off of their commute. Car accidents like these happen all the time, but when a motorcycle operator is involved, the damages become far more critical.
Malfunctioning Equipment: In some instances, major motor companies fail to properly check their equipment for safety, resulting in faulty parts for your motorcycle. In 2016, over 53 million vehicles were recalled, stressing the fact that in today's fast-paced world, safety procedures are often overlooked. Experiencing injuries or an extremely dangerous crash as a result of these issues is not your fault. As the motorcycle accident injury lawyers Houston turns to, we understand every factor that may go into your accident, and fight aggressively to get you the compensation you deserve.
As your personal injury lawyer Houston office, Hilda Sibrian has seen countless accidents such as these before, and ensured that equally as many individuals received full compensation for the negligible acts committed against them.
Motorcycle Accidents Disrupt Your Quality of Life
Depending on the severity of your injuries, the rest of your life may be affected by your accident. In these instances, insurance companies often attempt to offer a "no-hassle" settlement of a substantially lower number, in the efforts to avoid paying you what you're owed while settling things quickly. The second you're offered a settlement, it shows the insurance company's weakness – they know you're entitled to full compensation, and they're trying to take that away from you.
The personal injury attorney Houston office of Hilda Sibrian fully recognizes every aspect to your case, and will not settle for less. With a settlement, you could be paying out-of-pocket medical expenses for the rest of your life from your injuries. It's not your fault that this happened; we understand that.
Your motorcycle accident may result in:
Consistent physical therapy for years, or the rest of your life
Purchase and upkeep of equipment such as a walker, cane, wheelchair and more
Loss of transportation to and from work
Immediate disruption of your income stream
Decreased quality of life
Severe injuries resulting in emotional, physical, and psychological trauma
None of those were in your original plan. While no one can undo the events of your injury, you are owed compensation and the right to continue your life without additional disruptions down the road due to the negligence of one or more individuals.
What Should I Do After a Motorcycle Accident in Houston?
Contacting your personal injury lawyer Houston office is a crucial step to expediting the process, and putting compensation where it belongs – in your hands. Above all else, you should focus on healing and adapting to your new way of life following an immediate disruption. When you contact the injury lawyers Houston trusts at the office of Hilda Sibrian, we take the weight off your shoulders.
Motorcycle accidents rarely result in the operator immediately standing up and "brushing off the dust." Injuries sustained are often life-threatening and require critical care and time spent in intensive care units. We understand that your ability to reach out to our office representatives may be compromised, which is why we fight for you from the moment you're able to contact us.
Accidents never occur at a convenient time, which is why we're able to answer your call or chat messages 24/7. At our office, you're not just another claim – you're part of the Sibrian family, and we take care of our own. Utilize our bilingual staff, aggressive legal maneuvers, and dedication to fight for you in and out of a court of law.
None of this was in your original design. Let us put as many pieces back into place as we possibly can, and get your life back on track. You need funding to take care of your family, to resume your quality of life with no further interruptions. Call us today for a no-risk consultation.