Houston Car Accident Lawyers
Do You Need A Houston Car Accident Attorney?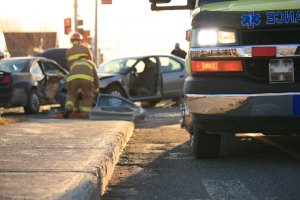 Being involved in a car accident is the last thing you expected to happen to you, especially at this particular time. The fact of the matter is, we're never truly ready for these incidents when they arise. You should immediately contact your Houston auto accident attorney as soon as you or a family member is well enough to dial the phone.
Auto Accidents are Rising
In an era with more distractions than ever before, auto accidents have been steadily scaling for the past few years. Couple that with the consistent rise in Houston's population, and you get the ingredients for disaster. While our wonderful city is a safe place to live, we're all subject to distracted driving, but that doesn't absolve an individual from fault.
With distracted driving and accidents on the rise, it's more important than ever before to be hypervigilant, and express every safety precaution possible. Even then, when you end up the victim of an auto accident, after doing everything in your power to remain safe, you wonder if all of those safety precautions did you any good.
Your practice of safe driving operations will help your claim against the wrongful, negligent act against you. Your accident attorney Houston office will have more to work with, and therefore make the process easier.
We Fight For You When Insurance Companies Don't
While insurance companies are expected to uphold the law, as well as their terms of the contract, they fight as hard as possible to avoid compensating you. Depending on your insurance company contract and extenuating circumstances, it may be a lengthy process to receive compensation or information that could otherwise aid in your case.
Hilda Sibrian, your Houston auto accident lawyer, understands how the insurance companies operate. Insurance companies base their counterclaims using their contracts and the law. If they can find an angle to avoid paying you compensation, they will exploit it to the best of their abilities.
What Are the First Steps Following an Accident?
Ideally, reaching out and contacting the Law Offices of Hilda Sibrian, the car wreck lawyer Houston residents have been trusting for years, would be your first move. The sooner you contact your Houston car accident lawyers, the quicker we can resolve issues and settle everything. However, your health comes first – if you require emergency medical care, you should always receive that care and recover from immediate or life-threatening injuries first.
We're here to work with you after your accident as soon as you feel capable to discuss the details surrounding your injury and the vehicle incident itself. Even if you believe yourself to be physically fit and stable, there could be underlying injuries not visible to you right away. While it's always best to seek immediate legal aid, nothing is more important than your health – a fact we cannot stress enough.
How Can I Help my Claim Following an Accident?
As your Houston car accident lawyer, we will need to gather as much information as possible. Obtaining as much evidence as possible, including police reports, will greatly aid your case. These include:
Witness Testimonies & Verifying Information: While waiting for emergency services to arrive at the scene, and providing that you are well enough to take down critical information, it is recommended to take down witness testimonies. In our city of over 2.3 million people, odds are that there will be one or more witnesses nearby. Take down statements, and follow-up information, such as a phone number or physical address, as well as their name. This information could absolutely benefit your claim, should it require heading to court.
Take Photographs: Gathering physical evidence about the position of the vehicles, as well as the exact location of the accident can greatly aid your accident lawyer Houston office representative, especially if counterclaims are being made with alternate or otherwise misinformed data. Getting the facts documented properly is critical, and in some instances, can make or break your case.
Request Information from Emergency Services: You have a right to know what was written down in the police report. In some instances, you may have to pay a filing fee to receive copies of these reports, or you may have access to them through your insurance company. Having these files on-hand is excellent for expediting your claim, as well as archiving for future review.
These measures also aid you when facing issues with the insurance company whilst trying to claim your compensation. Having concrete resources to utilize can make your claim ironclad, expediting the process, and getting compensation where it belongs – in your hands.
Extensive Injuries Require Extensive Care
You've suffered physical, emotional, and psychological trauma due to the negligent acts of another. You have a family to feed, a job that may be in jeopardy, and a life that's completely on hold. It's not right; while the damages can never be reversed, you can receive the compensation you deserve to get your life, and the life of your family, back on track.
Contact Our Houston Car Accident Attorneys
Depending on the severity of your accident, you could be missing out on key transportation to and from work, experience job loss, and more. You have expenses that require immediate action. Nobody understands that more than your Houston car accident lawyer, Hilda Sibrian.
If you've recently been in an accident, don't hesitate – contact us immediately. Our car accident lawyer Houston office has 24/7 accessibility. Accidents happen at inopportune times – your Houston car accident lawyer should understand that. We break the nine-to-five boundaries so you don't have to wait. If you've been injured in a car accident due to the negligent acts of another, you may be entitled to compensation.
Since 2004, the Law Offices of Hilda Sibrian have been providing strong legal counsel, as well as aggressive legal representation to get you the compensation you deserve. Contact us today for a no-risk, no-obligation consultation, and get your life back on track.