Bicycle Accidents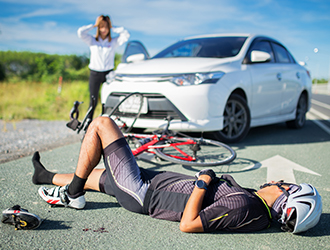 Bicycles have experienced a resurgence in popularity nationwide for a variety of reasons. Some people prefer to ride bikes to work in order to reduce their carbon footprint and save money on gasoline, while many other people ride bikes as a valuable form of physical fitness. However, biking in Houston and many other areas of Texas can be dangerous.
Texas Transportation Code § 551.101 establishes that bicyclists have all of the rights and duties applicable to a driver operating a motor vehicle. Bicycles share roads with motor vehicles, and drivers must respect bicyclists' rights. Unfortunately, they often fail to do so.
Most collisions involving automobiles and bicycles end very badly for bicyclists. This is because bicyclists are not afforded any of the protection that is inherent to the occupants of motor vehicles. Injuries in these cases can often be of a frighteningly severe nature. Some people will never be able to recover from their injuries fully. These victims deserve justice.
If you suffered catastrophic injuries, or your loved one was killed in a bicycle accident caused by another party's negligence, you should not wait to get legal help. An experienced attorney can help you to pursue all compensation you are due.
The Law Offices of Hilda Sibrian has a bilingual staff that is available to help victims of bike accidents 24 hours a day, seven days a week. Contact us today to discuss your case in a free consultation.
Who Can Be Held Liable for Bicycle Accident?
When a driver causes a bicycle crash, then that person could be liable for any injuries that result. The responsible party's insurance company, however, will often try to claim that the bicyclist contributed to or even caused their accident.
People often express concerns about how their own actions could affect their injury claims. In Texas, a person cannot recover damages when their percentage of responsibility is more than 50 percent. This is known as modified comparative fault. If a plaintiff is not barred from a recovery, the court must reduce the amount of damages by a percentage equal to the plaintiff's percentage of responsibility. For example, if a person is awarded $100,000 in a bicycle accident lawsuit but is found to have been 25 percent responsible for the accident, the court will reduce the award by $25,000. So, the most which the plaintiff could receive would be $75,000.
Bicycle crashes often result in severe injuries. Some of the most common kinds of injuries in these cases include:
Fractures
Sprains
Muscle strains
Road rash
Neck injuries
Internal organ injuries
Traumatic brain injury (TBI)
Spinal cord injury (SCI)
Paralysis
Nerve damage